"Quietus"
~ Get yours here!
All posts below this point were moved over from the previous blog
Regular Updates Hiatus
03.16.2010
"Quietus" was an exciting and unprecedented journey for me, and it was my pleasure to share my progress from first draft to publication with all of my supportive friends and followers. It is time to look to the future, though, and my regular updates will now be directed at
"The Fallen Shadow"
, the next book in the
"The Midian Saga"
. I encourage everyone who followed my progress here, to follow my next book as well as my
Personal Blog
. I look forward to the excitement of the next few months and to sharing the next steps of my journey with you.
Also, though there will be no further 'regular' updates to this blog, any events involving "Quietus" will be added to the event list, and any news involving the first book of the series will be posted.
Thank you all again, so very much!
~Kimber Grey
New Booksigning!
01.18.2010
I have had a long hiatus over the holidays, but I'm back on the horse with a new booksigning for "Quietus". This will be the last one at the "White Rabbit" on the ball state campus for a while, so please stop in if you're in the area.
EVENTS!
Book Signing:
January 22 (3pm-7pm)
White Rabbit Books on Ball State Campus
1604 W University Ave.
Muncie IN, 47303
.oO
Google!
Oo.
New Booksignings!
10.25.2009
Thank you everyone who came to show their support to my booksignings over the weekend! I had a warm reception in spite of my lack of overt advertising. I did well enough to be welcomed back at both locations in November! The events are below in this post as well as on the
"Quietus Event List"
.
I also wanted to remind everyone in the Fort Wayne area, that I will be at PentaCon promoting the book, and I am currently in negotiations with a few local bookstores up there, so please keep an eye on my calendar and blog to see when I will be near you!
EVENTS!
PentaCon XXV:
Booth #8 Nov 6-8
Hilton's Grand Wayne Convention Center
120 W. Jefferson Blvd.
Fort Wayne IN, 46802
.oO
Google!
Oo.
Book Signing:
Nov 20 (3pm-7pm)
White Rabbit Books on Ball State Campus
1604 W University Ave.
Muncie IN, 47303
.oO
Google!
Oo.
Book Signing:
Nov 28 (4pm-8pm)
Walden Books in Mounds Mall
2109 S. Scatterfield Rd.
Anderson IN, 46016
.oO
Google!
Oo.
Comments:
2 Comments:
the forvalaka said...
I leave for a few months and you go and publish a book! I wish I could make it to a book signing. Someday I'll have an income again and I'll buy a copy. Someday much sooner I'll be back online again.
October 25, 2009 3:04 PM

Kimber Grey said...
LAKA!!! Oh, how I've missed talking with you, my dear friend! :) We should get back in touch!
November 9, 2009 8:11 PM
Publication of Quietus
10.15.2009
The day has finally arrived!
"Quietus"
, the first book of the
Midian Saga
has now achieved publication. It is available for sale on
CreateSpace
, but will also be available by the end of the month on
Amazon.com.
Thank you EVERYONE for all of your support over the difficult months of writing and publishing this book. I know the marketing and distribution of the book will not be an easy task, but I am very confident that the success of "Quietus" will be directly related to the effort and dedication put into it.
Final Proof
10.11.2009
After the frustrations of last week, I had almost given up hope that my book would make publication in time for me to order copies for my first two book signings. I got up very early Saturday morning to double-check my account and see if my publisher's software was functioning. Thankfully, it was and I was able to order my proof. After a day of marketing the book locally, I returned home for a second wonderful surprise. The proof had been mailed out that very afternoon. I believe this means I can tentatively offer the new publication date of October 16, just days before my birthday. :) Happy Birthday, me!
Also, my day of marketing resulted in another scheduled book signing in the Muncie area on the Ball State campus! It was a very productive day for "Quietus"! Details on the book signing are below and also on the
Event List
.
Publication Blues
10.09.2009
Thank you, everyone, for following with me on this wonderful adventure. Those of you who have been following my blog and twitter account have witnessed the many trials of publication first hand, and this week is no easier than the last. It now seems that I will miss my projected publication goal of 10.10.09 because the publication company I'm working through has defective software that prevents me from uploading my cover art and ordering the final proof. I have been struggling with them since Tuesday, and reached the bitter realization on Thursday that I was being forced to over-shoot my goal by a week.
This morning I logged into my account, saw that the software was still offline, and lodged yet another complaint. Unfortunately, my hands are tied on the matter. It is too late to go to another publication company and I already have too much capitol invested in Amazon's CreateSpace to turn back now. I am entirely at their mercy. Until their software is back online, I can do nothing but sit and wait and watch my goal pass by. I am thankful that I hadn't made any early-month book-signing appointments, but now I am not sure if I will have time to raise capitol for my plans for black Friday.

I remain optimistic and continue to fight for my dream. The support of you, my friends, my family, and my ever-patient husband fuel me through these trials. Years from now I will look back and appreciate "Quietus" ever so much more because of the struggle and sacrifice it took to make this dream come true.
I will keep everyone updated and post a new publication date as soon as I have one.

Thank you again for your continued support!

Draft 4 is Done!
09.30.2009
Draft #4 is complete and all of the edits have come back from my reviewers and editors. It's time to crack down and finish the final draft.
I've ordered a proof copy of the book with the new cover art (reformated for the altered page count) and an older version to double-check my formatting and the print quality. Thus, when the final draft is finished, I am ready to submit it immediately for publication. In spite of my fear that I was too far behind to catch up, it now seems that I will make my publication deadline of October 10th!
Anyone interested in acquiring a copy may do so here: https://www.createspace.com/3402489 though the option to purchase won't be available until 10-10-09. Also, by the end of October, the book will be available on Amazon.com as well.
I've scheduled my FIRST book signing for a local store named "Walden Books", which is owned by "Boarders". I'm very excited and hope to see many people who have been hounding me about when they can acquire a signed copy. For anyone interested in stopping by, the location is at Mounds Mall in Anderson Indiana (see address below), and the date will be Oct 24, from 4pm to 8pm. I will also have a booth at NIGA's Pentacon XXV, located at the Grand Wayne Center in Ft.Wayne on Nov 6th through the 8th. I hope to update the website this week or next to include a calendar of events such as book signings and conventions.
Another Thank You to everyone who has been patient and unwavering supportive through all of the rough patches.
Book Signing:
Oct 24 (4pm-8pm)
Walden Books in Mounds Mall
2109 S. Scatterfield Rd.
Anderson IN, 46016
.oO
Google!
Oo.
PentaCon XXV:
Booth #8 Nov 6-8
Hilton's Grand Wayne Convention Center
120 W. Jefferson Blvd.
Fort Wayne IN, 46802
.oO
Google!
Oo.
Draft #2 Complete!
07.30.2009
In spite of the phenomenal effort required to finish draft #2, I did it in a remarkable amount of time. It is amazing to think that just a few months ago, I had decided to bury this amazing series of books in my past. I had resigned myself to putting them forever to bed, and now I am just three months from publishing book I. What amazes me more, is how naturally this text came to me. It was as if it wrote itself, and I simply held the pen and channeled the story onto the parchment. Now that the novel has made the transition to digital, the next draft will be a lot faster than the previous two. As with the previous draft, my reward to everyone following this shaping project is an excerpt from this version. Thank you everyone for your continued support!
EXCERPT:
Kenneth's teeth were chattering when he made it into his father's study and the reenergizing warmth of the flame. "She's really something," Greygor commented without looking up from the correspondence he was writing. "She ran out into the night, knowing there was a storm coming."
Kenneth nodded, opening his wings to take in as much of the fire's energy as possible. "Yes. She does seem to lack the commonsense that most people posses encouraging them to avoid situations of discomfort and bad fortune."
Greygor laughed, shaking his head. "She was looking for you. Don't think for a moment that that woman is lacking for anything. She's fair, smart, and crazy about you. She's a good woman, and it's getting time that you consider taking a wife."
"What?" Kenneth yelped, spinning to face his father. "Marry? Sammie?" He shook his head, quickly. "No, no, no. Even if I wished it, there's too much to be done."
"Don't start thinking like that." Greygor looked up at his son. "Life is about living. Think on that for a long while. I'm not saying you have to marry if you don't wish it; I'm only saying she's a good match and a very healthy age to bear children."
Kenneth gaped at the general. "I would be happy if you changed the subject. Please."
Greygor laughed and re-inked his quill, returning to his work. "Very well. Just thought I'd give you something to meditate on besides warfare." Greygor grinned at the still-horrified stare of his son. "And I wish to see you happy again, son. The only time I've seen you smile in over two years was when you were with her."
Draft #1 Complete!
07.15.2009
After many delays and a few of the most difficult months of my life, the first draft of "Quietus" is finally complete. I am currently one third of the way through draft two, with high hopes for completing draft three by the end of July. My official press release has been pushed out to August 24th because I must have a completed final draft in PDF format to mail out to book reviewers. As a special treat to everyone following my blog, I've selected one of my favorite paragraphs from this draft for a sneak-peak at a few of the characters in the book.
EXCERPT:
The months leading up to the day [Safreous]'d decided to rouse [princess Vera] were filled with many lonely hours of hunting, harvesting, and repairing the cottage. He'd gone through thousands of imaginary conversations where he gently broke the news of their missing eight centuries and his heartfelt vow to protect her for all times. Yet, as he began laying out components around her resting form, all of his wise words eluded him. How could he hope to comfort her after the deaths of her family and the betrayal of her brother? How could he fill the void of loss from all of her long-dead friends and guardians? What did he know of the complexities of raising a child, let alone a princess? He was overwhelmed by the task set to him by Queen Alivia, and he felt old and ill equipped.
Limited Edition Copy
05.29.2009
PRE-RELEASE COPIES:
Once draft #1 is complete, I will start updating the blog's novel excerpts with every finished chapter in draft #2. I want draft #3 done and ready for the pre-release publication that I'm going to send to my volunteer editor and reviewers. This is a very narrow window of opportunity for anyone who wants a pre-release copy of "Quietus". I will be ordering ONE shipment and then removing it from availability.
GETTING A VERY LIMITED EDITION COPY:
If you want a printed copy of Draft #3 in trade-paperback format with the cover art, just email me at Quietus at GrayWhisper dot com. This version will have a very limited number of copies and may differ significantly from the final version produced in October (including cut chapters and events). This would eventually become a collector's edition to which less than a hundred copies were ever made, and I will even hand number them accordingly inside the cover with signature. The trade paperback produced in October (dimensions of 6"x9") will retail for a price equal to novels of a similar theme, page count, and size: $14.99 (estimation). The pre-release copy I will make available to my followers for only $10 plus shipping.
SHIPPING:
You can estimate your shipping at USPS.com. Your starting zip code will be 46016, and your ending zipcode will be your own. The book and packaging will likely be around 20 oz, and will be shipped in a bubble-mailer.
If you don't want to or can't estimate your own shipping, you can ask me to do it for you, or just trust that I will charge you exact shipping (which I will). To get your own copy, or to just find out how much it would cost after shipping, email Quietus at GrayWhisper.com and I will fire off a response on how much to pay and were to send it.
PAYMENT:
I can only take Credit Card, PayPal, Google Checkout, or Cashiers checks in USD. I prefer Google Checkout over PayPal (and you likely would too if you looked at the fine print), and request that everyone who can, use that method of payment. Payment will need to be received by mid-June (when draft three is complete), because I will be ordering only ONE shipment of the pre-release copies and I'm only ordering as many as I need, no extras.
PROGRESS on the book:
Draft #1 of chapter's 1-24 are complete. 1/2 of chapter 25 and two later chapters are also finished. That puts my count at 26.5 chapters and my May goal was a chapter a day starting at chapter five. Thus, I am 9.5 chapters away from my goal with three days to reach it. I don't know if I can reach it by the end of the month with them scheduling me so many shifts at the Country Club, but I will make a valiant effort.
Quietus at EMG!
05.16.2009
I've been waiting several weeks to see if my cover art would be accepted for sale on
Ellen Millions Fantasy Art Shop
. I am so excited that it finally was, because this means that there are now cute and affordable t-shirts available with unbranded "Quietus" cover art!
Ellen also offers high-quality prints, bookmarks, cards, babydolls, mousepads, totes, magnets, stickers, and aprons! Thank you Ellen for accepting my art for your giftshop!
Products are also available for a few of my favorite art pieces: "Phoenix", "Mezmer", and a photo manipulation entitled "Water's Edge". Go check them out!
Twitter
05.12.2009
"Quietus" is still under construction. The outline is made, the characters well established, the story told a thousand times. Now I just need to finish putting my vision on paper. Draft #1 is done until chapter 12, and Draft #2 is done until chapter 6, and I thought I would provide everyone who has expressed interest in the ongoing writing process (and what goes into writing a novel in two months) an opportunity to follow along with me as I work.
Enter: "Twitter". You will see to the right and down a few small notations about what I've most recently accomplished entitled "Realtime Updates", clicking on the 'follow me on twitter' link will bring you to my activities since the inception of the account (last night in relation to this post). While you're looking there, you should also sign up for my newsletter! There's no telling what goodies may be hiding in there.
Thank you, everyone, for your ongoing support!
Quietus Newsletter
05.07.2009
The Quietus e-newsletter is now available! Sign up to get blog updates sent to your inbox! I'll also try to send your way new goodies like updates on products available through various online shops. If I can arrange it, I will send coupons for the book and those same products.
I would like to thank everyone who has shown their support by visiting my sponsors and by bookmarking this blog. If you like the cover art, I suggest visiting my
Deviantart
page to see my other works. Some prints and t-shirts of those art pieces are also available on my
EMG Giftshop
.
And don't forget to join the newsletter mailing list to the right of this message before you leave!
Thank you all.
CafePress Shop
04.28.2009
Today, I am happy to announce the availability of various "Quietus" products available through the GrayWhisper CafePress Shop! If you enjoy the artwork and would like to support this project, I encourage you to visit
http://www.cafepress.com/GrayWhisper
and browse the t-shirts, sweaters, bumper-stickers, mugs, and more we have to offer!
More products will be added as the deadline approaches, so please stop by often!
Blog Move
04.26.2009
A few of you may have noticed a change in the scenery. I had to change blogs because WordPress was not giving me enough options. I also wanted previous posts to be more accessible to everyone so you can explore the progression of the
"Quietus"
project.
I strongly suggest, that should you wish to follow this thread, you link or bookmark to: http://www.GrayWhisper.com/Quietus The reason for this is that should I require another move, the forward on this page will be instantly updated. Also, on 10.10.09 (publication date) the site will be updated to an online store with access to the blog. You don't want to miss that!
Thank you everyone for following along with me on this fun and exciting process; I encourage everyone to link to
"Quietus"
and spread the word. I will be adding downloadable banners and button art very shortly. Feel free to use any of the art you see on this site to link to me. Also, please, if you use my art for anything else (character portraits or backgrounds), link back to the above location. I appreciate it.
Finished Cover Art!
04.26.2009
The cover art is complete! (unless I get an itch to tweak something else.)
Below are the results of a week of hard labor. I would like to give a special thanks to my dear friends, Monica and Steve, who took the time to review the work at every stage and give critical observations.
Any changes made to this final cover will be updated in this thread and I'll log those changes below.
Thank you for your interest, and don't forget to buy your own copy of "Quietus" hitting the shelves and selling online at Amazon.com on 10.10.09!
Cover Art WIP
04.26.2009
For a special treat, I thought I would post a Work In Progress thread for the Cover art.
CURRENT VERSION: (The art is very close to done, so there won't be any more updates in this thread. It is missing the back panel with the teaser, the barcodes and the spine is missing the GWGP logo)
Base Colors and Basic Shapes: Day 1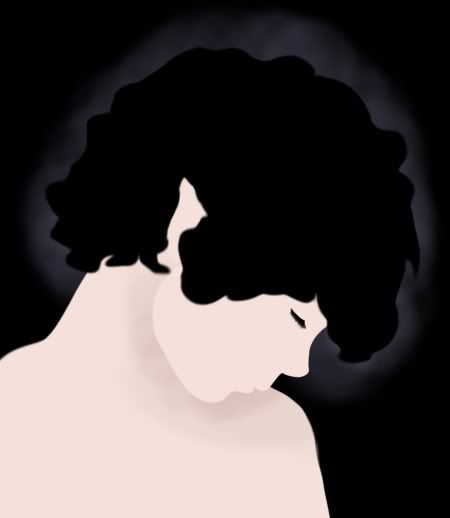 Shading of the hair and skin: Day 2
Shadows, tweaking skin tone, and Title: Day 3
Wings, More shadows, Background tweaking: Day 4
Adjustments to coloring: Day 5 (just about finished)
The final cover will be displayed in a separate thread. This should be the final WIP update!
Quietus is to Me
04.26.2009
"Quietus"
is a very special project to me because it opens the door to some of my favorite characters from the Faiden Kingdom. It shows their evolution into the complex and interesting individuals that appear throughout the epic stories that are yet to come. Working on the saga has been a many-year-long ordeal full of successes and frustrations. Finally at a point where I felt comfortable to allow others in, I agonized over where to begin. How should I introduce everyone to the intricate universes, realms, dimensions, and kingdoms of Midia? Why not at the beginning?
Fun fact:
'quietus' essentialy means 'the final stoke', 'the last action', or 'death stroke'. In many ways, though this novel is an introduction to some very special characters, the title is succinctly accurate. And that's all I'm going to reveal at this time. Read the book.